One of These Days
Nominated for SCMA Best Roots Album of the year 2012.
Dave has just completed his first full production CD One of These Days which was released in July 2012. It features 12 original songs that share the perspective of a man who has traveled many parts of the world but will always call Saskatchewan his home. He plans to tour Saskatchewan in the fall of 2012 to promote his album.
Order online from CDBaby or download from iTunes.
Biography
After singing and playing guitar for many years, Dave Cyca is now enjoying songwriting and performing. He grew up on a farm in small town Saskatchewan. In his early teens he discovered the guitar and with friends would learn to play the popular songs of the day, songs by the Beatles, Rolling stones, and the Mamas and the Papas. Other early influences were Gordon Lightfoot, Joni Mitchell, Bob dylan and Simon and Garfunkel. More recent influences are Bruce Cockburn, John Prine and Steve Earle.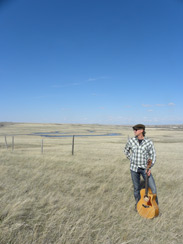 He has been described as a quintessential folk musician whose thoughtful lyrics and strong melodies integrate in a relaxed and personal style. Well known singer, songwriter, producer, Dean Mctaggart describes Dave's music as earthy and singalong. His gentle humor and natural musicianship have been refined throughout the years of performing at community events and concerts in southwestern saskatchewan. He has shared his music as a solo performer and has also collaborated with many other musicians where his bang-on vocal harmonies are always a pleasure.
Dave attended the Emma Lake song writing retreat in 2009, 2010, 2011 where he worked with David J. Taylor (producer of the year award winner at the 2007 Western Canadian Music awards); Jay Semko, (lead singer/principle song-writer of the Northern Pikes); and Saskatoon singer/songwriter Kim Fontaine. These workshop leaders were all extremely positive about Dave's work and strongly encouraged him to pursue further writing and recording.